PAGE UNDER CONSTRUCTION


This page is undergoing changes. Please excuse the quality. This article is a stub... You can help the Hello Neighbor Wiki by expanding it.
Thank you!
This is a list of characters featured in the Hello Neighbor franchise. Some of these characters listed are either recurring or not, not seen, only mentioned in novels, or exclusive to a certain game.
Hello Neighbor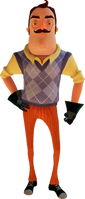 Theodore Peterson
Theodore Peterson or just simply, Theodore is one of the main characters and antagonists throughout the game. It all starts with a man named Nicky Roth arriving at his new home and delivering his things, but suddenly he accidentally looks out the window and notices that his neighbor is doing something wrong. He decides to go to his house and check out this place. Mr Peterson will not allow Nicky to climb in his house, so he will have all sorts of traps for him and then catch him. Theodore Peterson's model can be seen underground in Alpha 2, it changes its location if Nicky is caught by Theodore. It is also likely that the Peterson model will appear under the basement map.

Nicky Roth
Nicholas Michael Roth, Or simply known as Nicky Roth is the main character for which the player plays throughout all versions. The face was revealed by the players in Alpha 2, as the developers deliberately left the players the command console in the game. Prior to Alpha 2, Nicky did not have its normal model. Also, his models can be found in the Alpha 2 tutorial, and models under Theodore house. In the release of the game in cast scenes, his own animation appeared with him.
The Thing

The Thing, Something (or the Shadow Man, as it is sometimes called) is the main antagonist, personifying all fears. It first appears in Alpha 3. It can be found in the basement and fears. In the basement of Beta 3, this character became alive, could walk, sneak up, see and hear. He will not let the player go any further. In Release, he became the final boss. He also appears in the spin-off game Secret Neighbor, but only when the Neighbor transforms into a child (or the other way around). The Thing can also be seen when the Neighbor get's killed. It seems like the Neighbor and The Thing are teaming up in order to stop the kids.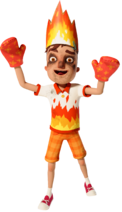 Aaron Peterson
Aaron James Peterson, Or Simply known as Aaron Peterson, Is the Neighbor's Son. At the beginning of Act 1, you can hear screams emitting from the Neighbors house. He later locked up this screaming person into the basement, as you can both see and hear that. Aaron Peterson is the child that got locked up. He is only seen 3 times. He's seen on the missing posters, in the keyhole at the beginning of Act 2 and when one of the dream sequences begin. In this game, he's not seen as a human, but rather a cut-out of himself from cardboard.
Mya Peterson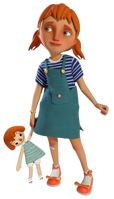 Mya is Theodore Peterson's Shy, Daughter. She is seen as being friends with Nicky and she seems to be really caring and considerate towards people, Constantly trying to make anyone around her happy that she can
She is the Woman on the missing posters and dies at the end of Hello Neighbor Hide and Seek by Aaron's hands.
Mannequin
The Mannequin's are Decorations in Theodore's House, They are seen all through Act 3, and as Non-Movable Objects in Secret Neighbors Level Editor, They have no backstory other than being used as Students and Teachers in the Fear_School Level
Mannequin (Teacher and Students)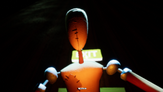 This Mannequin only shows up in Fear_School, If its a Student it has a Red Glow, But if its a Teacher, It has a White Glow, The only exception to this is the Teacher at the end of the level, It has a Red Glow to it. These Mannequins are Nicky's Embodiment of his Fear at school of the Teachers and the Kids because they thought he was weird for thinking something was up with Theodore (as confirmed by the books)

Raven
Raven, Also known as Crow - a secondary antagonist in Alpha 2. The Crow is owned by the Neighbor, So if you go up to the Crow, He will alert the Neighbor where you are! So get going!
In Hide and Seek, when you click the "I'm stuck" button, it flies in and sends you to the starting position.
Shark

The Shark
is a minor antagonist who helped Theodore catch Nicky on the second floor in Alpha 1 and
Release (Act 2)
. Unlike a raven, a shark is capable of catching a player on its own. He guards the passage to the second floor in the host's house in
Alpha 1
and the shovel in Release. A neighbor allocated him his own room so as not to fool.
Shark release Shark in release By its structure, a shark is just a mechanical robot, made by Theodore to stop intruders.
At first glance, this is not visible, because only its fin sticks out of the water.
Hide & Seek Characters
Theodore Peterson
Mr. Peterson plays a minor role in this game as the game focuses more on his two children, Mya Peterson and Aaron Peterson, Mr. Peterson is seen at the dinner table along with his wife and two children, Mr. Peterson is seen again entering the house with his wives purse, he then lets it go before collapsing to his knees, Mya and Aaron hug their father to comfort him, however, this wasn't enough as Mr. Peterson became more sluggish, watching TV and appearing not to notice his daughters concerned look for him even though she was right in front of him, he appears again to get the children for dinner, motioning his hand tiredly, at dinner Aaron takes Mya's spoon before pushing her and causing her plate to fall and break, seeing this, Mr. Peterson gets up and sends Aaron to his room, but before he leaves he takes Mya's doll, Mya goes to get it back but Mr. Peterson motions his hand to tell her to stay and eat dinner. Aaron later plays hide and seek with Mya's Doll, but accidentally shoved her off the ledge out of anger that she won. Mr. Peterson is seen one final time during the credits, digging a grave, probably for Mya.
Diane Peterson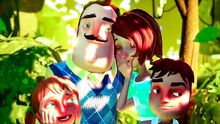 Theodore Peterson had an ordinary family, which included the daughter of Theodore, Mya, his son Aaron and wife Diane. One day, when Theodore was driving his car with his wife, a terrible accident occurred. Due to this horrific accident, Diane was severely injured, after which she was taken to the hospital. In the end, she died. After that, she was buried in the city cemetery. More about Mrs. Peterson is unknown.
Mya Peterson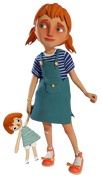 Playing hide and seek with her brother while their mom is preparing breakfast. Then the parents leave, and the children continue their game. However, only the father comes after, having fallen to the floor with tears and a mother's bag in her hands. The mother of the children died. If Mya suffered this pain, then Aaron did not. While playing hide and seek, Aaron, Still mad, Accidentally shoved his sister off the roof, Mya did not survive the fall.
Aaron Peterson
Aaron is playing hide and seek with his sister while their mother is preparing breakfast. The children were so carried away by the game that they began to imagine that around them was Savannah, etc. In this game, the Neighbor's Son is presented as an antagonist - he catches his sister and picks up toys to lengthen the time.
Nicky Roth
Nicky can be found outside Mr. Peterson's House he is near his house playing with a toy truck.
Raven

Crows are in every phase of Hide & Seek, if you click on the "I'm stuck" button, the Raven will help you.
Cardboard People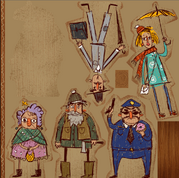 Cardboard People - minor antagonists in Stage 2 play the same role as the griffin, but unlike it, they can move and cannot be distracted. In Stage 4 there is one cardboard person - Homeless (at this stage he is a woodcutter).
Community content is available under
CC-BY-SA
unless otherwise noted.