PAGE UNDER CONSTRUCTION


This page is undergoing changes. Please excuse the quality. You can help the Hello Neighbor Wiki by expanding it.
Thank you!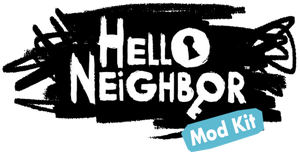 The Hello Neighbor Mod Kit is a tool used for modding the game. It is available for free in the Epic Games Store, and is 13 gigabytes. It contains Unreal Engine v4.20.3 with a built in plugin for Hello Neighbor. You can package the mods, which turns them into a pak file, then the mods can be uploaded to the Steam workshop and then played in the full version of Hello Neighbor on Steam, but you can also just play mods within the engine itself. Alternatively, for those who prefer playing in the engine, you can go to your mod directory in HelloNeighborModKit/HelloNeighbor/Mods and find the folder for your mod. Turn it into a zip file, and go to the Hello Neighbor page on ModDB to upload it.